RECTOR OF the NORTH CAUCASIAN STATE HUMANITARIAN AND TECHNOLOGICAL ACADEMY

Prof. Kochkarov Ruslan Makharovich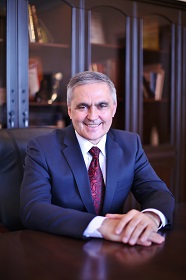 He started his education in 1979 - Stavropol Aviation Training Center, qualification - the pilot of fighter aircraft (A-29 Ooty-MiG-15, MiG-17).
1984 - Faculty of electronics and instrumentation. Saratov Polytechnic Institute, qualification - engineer-electrician.
1991 - Academy of the Ministry of Interior of the USSR, Rostov Department, qualification - lawyer.
1996 - Moscow State Institute of International Relations (University), qualification - lawyer expert in the field of public administration.
1997 - Postgraduate Legal Academy of the Ministry of Justice, PhD.
Professional experience:
1975 to 1976 - Cherkessian factory of refrigerating engineering, Karachay-Cherkess regional committee of Komsomol
1985 to 1992 - service in the Internal Affairs Ministry of Internal Affairs of the USSR
1992 to 2002 - A federal judge of the Cherkessk City Court
2003 to 2009 - service in the government of the Republic of Karachay-Cherkess bodies: Deputy Secretary of the Security Council, Deputy Head of the Administration of the President of Karachay-Cherkess Republic.
1997 - Teaching activity, Head of the Department "Criminal Law and Procedure" Karachay-Cherkessian Academy of Technology, Associate Professor.
2009 - 25.11.2012 - Director of the North - Caucasian Law Institute.
26.11.2012- appointed as acting rector of the "North-Caucasian State Humanitarian and Technological Academy" 23.04.2013 - appointed as rector of Federal Government Budget Educational Organization "North-Caucasian State Humanitarian and Technological Academy," the Ministry of Education and Science of the Russian Federation